Second hand used motor yachts and sailing yachts for sale in Greece available thru our Company Yachting Greece in a large variety of yacht types, models and manufacturers to satisfy every taste. If you are in the market looking to buy a used motor yacht or sailing yacht in Greece, chances are that we have the type and size of boat you want. We are a chartering company continuously improving the status of vessels in our fleet and selling older models. Hence, we have a constant flow of used boats for sale from Good to Fair and Mint conditions. In addition we have numerous boats from well reputed contacts and sources. Currently we have on the selling block over 270 boats offered for sale in this website ranging from 150 to 58 feet luxury motor yachts and 65 to 30 feet sailing yachts in length including a super yacht. If by any chance we don't have what you are looking for, please email us your specific requirements and we can get it for you because we have access to more used boats for sale than any Yachting company in Europe.
When you find the boat that fits your needs, please e-mail us your request at info@yachting-greece.com and we will forward detailed info.


Please visit this page often as it is being regularly updated.

The Management
of Yachting-Greece.com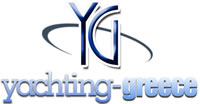 ADDRESS:

Tzavela 15-17, Piraeus 185-33, GREECE
Telephone: +30-6977-519090
Fax: +30-210-4296311
Email: info@yachting-greece.com
65 Newmarket Road, Durham, NH 03824, USA
Telephone: 603-7678926
Email: usa@yachting-greece.com
©www.yachting-greece.com 2000-2013.


MOTOR YACHTS | SAILING YACHTS | MOTORSAILERS | CATAMARANS | MEGA YACHTS | JETS | CHOPPERS | SEAPLANES
CARS | LIMOS | ABOUT US | CONTACT US | FAQ | SERVICES | PRIVACY | TERMS | TESTIMONIALS | NEWS | LINKS
HOME | SITE MAP