S/Y Ocean Star 56.1 sailing yacht charter Greece

The sailing yacht OCEAN STAR 56.1 is offered for charter in Greece as bareboat or skippered charter for your sailing holidays and yachting vacations to the Greek islands. She is a beautiful sailing yacht offering comfortable accommodations for her 12 guests in 6 spacious cabins and has tastefully decorated interior living area and spacious decks for sunbathing and relaxing during cruising.

CHARTER BAREBOAT or SKIPPERED SAILING YACHT S/Y OCEAN STAR 56.1 NOW

SPECIFICATIONS

BUILD YEAR
2001/03
CABINS
6
PEOPLE ON BOARD
12
PEOPLE IN CABINS
11
TOILETS
6
SHOWERS
6
L.O.A (m)
16.55

PRICES PER WEEK IN EURO TO CHARTER THIS Ocean Star 56.1 YACHT IN GREECE

Period A: 8,835 Period B: 7,837 Period C: 6,355

Prices divided per time Period in A, B, C

High Season (A): 02 to 22 AUGUST

Middle Season (B): 17 MAY to 01 AUGUST & 23 AUGUST to 03 OCTOBER

Low Season (C): BEFORE 16 MAY & AFTER 04 OCTOBER

OCEAN STAR 56.1 sailboat

Location: Greece

Charter this yacht bareboat or skippered.

Booking inquiries,

e-mail:

MOTOR YACHTS | SAILING YACHTS | MOTORSAILERS | CATAMARANS | MEGA YACHTS | JETS | CHOPPERS
CARS | LIMOS | ABOUT US | CONTACT US | FAQ | SERVICES | PRIVACY | TERMS | TESTIMONIALS | NEWS | LINKS
HOME | SITE MAP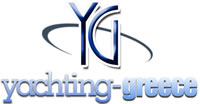 ADDRESS:
Tzavela 15-17, Piraeus 185-33, GREECE Telephone: +30-6936-883646 Fax: +30-210-4296311
Email: info@yachting-greece.com
65 Newmarket Road, Durham, NH 03824, USA Telephone: 603-7678926
Email: usa@yachting-greece.com
©www.yachting-greece.com 2000-2019

Disclaimer: This document is not contractual. All specifications are given in good faith and offered for informational purposes only. The publisher and company do not warrant or assume any legal liability or responsibility for the accuracy, completeness, or usefulness of any information and/or images displayed. Yacht inventory, specifications and charter prices are subject to change without prior notice. None of the text and/or images used in this brochure may be reproduced without written consent from the publisher.