"OCEAN STAR 56.1"
Location: Greece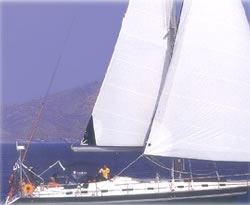 Guests: 6
Cabins: 3
Crew: 2 on separate quarters
PRICES IN EURO PER WEEK: €11,900
To change price in your home currency
*The above prices include: Skipper and Steward/ess, breakfast and light meal, soft drinks.
Extras: 4% VAT, fuel consumption 15 lt/hour, private marinas fees, channel of Corinth fees (if crossed), lunch and dinner, alcoholic drinks, dinghy with outboard engine 5HP.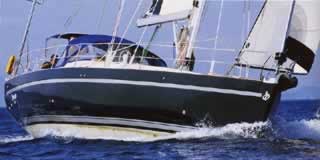 The Interior:
The interior is lined with cherry wood with tasteful furniture of very good quality, which creates a pleasant and elegant atmosphere. There are enough storing areas, as the free areas of the bilges left of the living room have been made into cupboards. There is a lot of natural light and ventilation because of the air ducts and the total of 26 hatches and portholes onboard.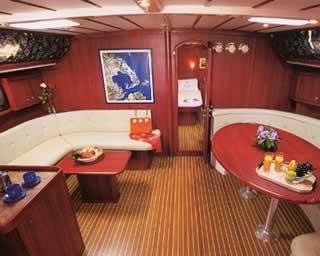 Very spacious living room, and on the right is the kitchen area, which includes a small sink with a workbench, a gas stove, a microwave oven, two refrigerators, a freezer and various cupboards. Further forwards there is a sitting area, which includes a comfortable sofa, while on the left there is the quite comfortable chart table, where the sailing instruments and the electric panel are located. The dinning room, that has been installed further forward, sits seven people comfortably.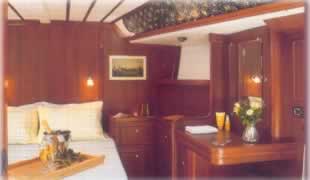 CABINS:
The two aft cabins, with autonomous air-conditioning, offer a big and comfortable bed and enough lockers and selves.
The master cabin, offers a king size double bed, lots of wardrobe closets, a small desk and a beautiful sitting place. Is air-conditioned and has audio CD and video set.
In front of that, there is the skipper's cabin, also spacious and with its own bathroom. This cabin cannot be accessed from within the boat, but its entrance is through a hatch that is located on the deck's fore section.
Engine Room:
In the engine room, which is located under the staircase, there's a Yanmar 140 HP Diesel. The area is easily located from three entrances, it has good lighting and is lined with good quality soundproofing material. The yacht has an electric 12V power source with batteries of 650 Ah capacity, that are located below in a special area in the bilges, an electric 10 kw generator and an electric 220V power source, a desalinization of sea water system, air conditioning and bow thruster. The capacity of the yacht in petrol is 750 liters, while the equivalent in water is 1300 liters.
Charter this crewed OCEAN STAR 56.1 yacht
Booking inquiries, e-mail: