S/Y OCEAN STAR 495 SAILING YACHT CHARTER GREECE

The sailing yacht S/Y OCEAN STAR 495 is offered for charter in Greece and sailing cruises to the Greek islands as bareboat or crewed charter with Skipper. She offers accommodations to 10 or 11 guests in 5 spacious cabins. Her interior living areas are tastefully decorated and roomy and her large open deck spaces are perfect for sunbathing, relaxing and socializing during cruising.

SPECIFICATIONS

ARCHITECT
STUDIO NAVALE
DESIGNER
OCEAN YACHTS
L.O.A.
14.95 m.
L.W.L.
12.60 m.
BEAM
5.58 m.
DRAFT
2.00 m.
SAIL AREA

110 m²

ENGINE
YANMAR 88HP
FUEL CAPACITY
400 lt.
WATER CAPACITY
900 LT.
CABINS
5
BERTHS
10
PEOPLE ON BOARD
11
TOILETS
5
SHOWERS
5

Ocean Star 495 is the proof that a 50 - footer sailing yacht has a lot to offer in performance reliability and comfort. Combining naval tradition with Greek salesmen's experience, Ocean Yachts created an innovate sailing yacht that satisfies the needs of even the most demanding owners. Ocean Star is an answer to the needs of cruising of the new century. Her modern designed with the intention to provide you with comfort and high performance.


The luxurious interior is designed and constructed with much care and skill. The kitchen consists of refrigerator, freezer and gimbaled gas oven - cooker. Light and ventilation are ensured by 9 hatches, 12 portholes and 2 dorado boxes.

The deck lay out on the OCEAN STAR 495 offers extremely wide sidekicks , a teak covered deck and hatches located prudently to ensure easy and safe circulation on deck.

Access to the deck is possible though an innovative opening in the stern that leads to a totally uncluttered way to both cockpits. The dual cockpit configuration ensures a comfortable cruising. The guest cockpit is well protected by a windscreen and offers space for 8 people around the standard table. The crew cockpit has two high tech hydraulic steering positions and direct access to the winches.

"OCEAN STAR 495.2"

Location: Greece

Click photos below to enlarge

"OCEAN STAR 495.2"

Charter this yacht bareboat or skippered.

Booking inquiries, e-mail: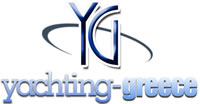 ADDRESS:
Tzavela 15-17, Piraeus 185-33, GREECE Telephone: +30-6936-883646 Fax: +30-210-4296311
Email: info@yachting-greece.com
65 Newmarket Road, Durham, NH 03824, USA Telephone: 603-7678926
Email: usa@yachting-greece.com
©www.yachting-greece.com 2000-2019.


MOTOR YACHTS | SAILING YACHTS | MOTORSAILERS | CATAMARANS | MEGA YACHTS | JETS | CHOPPERS
CARS | LIMOS | ABOUT US | CONTACT US | FAQ | SERVICES | PRIVACY | TERMS | TESTIMONIALS | NEWS | LINKS
HOME | SITE MAP