The Crew of Clasship I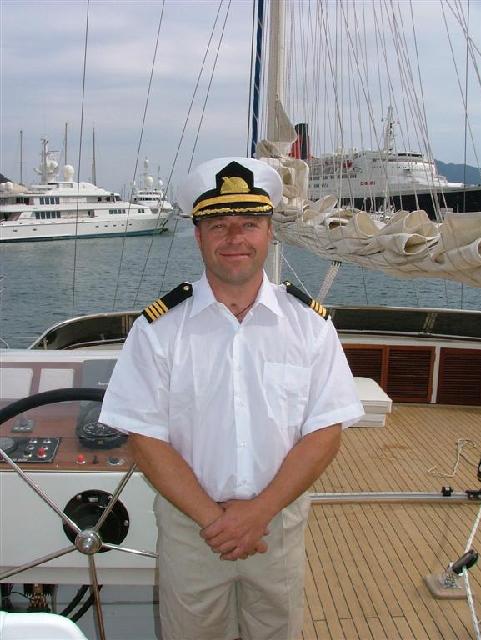 The Captain
Jeff Doolan age 34 is British and responsible for the safety of the crew, the yacht and guests. Jeff is a highly qualified and experienced RYA (Royal Yachting Association) yacht master instructor. He holds a British MCA (marine coast guard agency) ST 95 certificate including for fire fighting, first aid, personal survival etc. Also PADI diver. If you want to learn more about sailing, Jeff is your man, he still loves instructing and passing on his knowledge. If you like sailing as apposed to motoring everywhere, he will not disappoint you. Jeff has visited, traveled or sailed to countless countries around the world including the Caribbean and is easy going but thoroughly professional as are all our crew.

The Chefs - That's right, we have two!
Octay age 26 is Turkish and has been a chef since sixteen following his family tradition. He still has his own restaurant in Turkey'€šs capital Ankara but thankfully enjoys traveling the world with Clasship 1. He has been our chef for a year and his displays are mouth watering. Before he worked with blue tours (chartering) and two 5 STAR hotels. He joined us being highly recommended and has not disappointed us. Octay is well known in Turkey and highly regarded amongst the best chefs in his capital.

Rob age 25 is British / Caribbean and is an award winning 5 star chef. He started his culinary career in the British Army for both soldiers and the officers. He served in various parts of the world including Kenya, Germany, and India (Himalaya) wining gold medal chef'€šs award for the forces. Rob then attended Manchester University where he gained his degree in culinary arts again with major awards to his collection. Rob has since worked at the LS Lowry restaurant and two Michelin guide restaurants.

Hostess
Caz age 30 is British and has been Jeff'€šs companion for nine years She holds various certificates including RYA competent crew and British MCA STC 95 certificate. A PADI diver. Caz has sailed with Jeff for 9 years. They work superbly as a team with each one knowing what is needed next without even asking. Both Jeff and Caz have sailed more miles to more places than they can remember. A fantastic organizer who ensures it all happens without a fuss. Silver service with a huge beaming smile. Both Jeff and Caz have worked with clients from Flotilla leaders to charter yachts for many years.

Chief Engineer
Lee age 34 RYA Day skipper and British MCA STC 95 (first aid, fire fighting, personal survival etc). MCA AEC approved engine course, 18 years as electrical / mechanical engineer. A PADI advanced open water diver.
The M/S CLASSHIP I is a 28 meters long MCA certified steel motor sailer in Turkey. She can accommodate 12 people in 6 double en-suite cabins (including two master suites) offers all amenities including jaccuzi (hot tub) on upper deck. The master cabin has a double bed, bath/tub, shower and head. Another 4 cabins have twin beds, shower and head. + 1 Captain + 2 Crew Cabins with separate entrance.
Characteristics
Elegantly furnished and MCA certified deluxe yacht with 2 master suites and 4 twin cabins offering all amenities for VIP charterer. Very well maintained. "Clasship I" accommodates 12 guests in 6 cabins with en-suite bathrooms and A/C systems.
Reservations: