M/Y HAIDA G Mega motor yacht charter Greece

Charter the motor yacht "HAIDA G" ex ROSENKAVALIER in Greece Greek Islands Mediterranean
The mega motor yacht HAIDA G is available for charters in Greece Greek islands and Mediterranean for your sailing holidays. She has a 14 member Crew and accommodates only 14 privileged guests in 7 spacious and luxurious staterooms comprised of a Master suite, two double bedded, three Twin bedded and one cabin for children.
Mega yacht HAIDA G 218 feet 67 meter

14 guests - 4 crew - €45000 /day

Would you like to charter HAIDA G?

Is an understatement to say that the luxury motor yacht HAIDA G (ex Rosenkavalier) is the greatest surviving classic motor yacht of the 1920's. The 67 meter Haida G is a luxury yacht from a different era. Very few yachts inspire such emotional feelings as seeing the spectacular 218 foot Haida G cruising or entering port. She is one of the ultimate 'classic' motor yachts built during the golden era of private yachting. In 2005 she was totally refitted and restored to her former glory by her current European owner. She made her grand entrance at the 15th Annual Monaco Yacht Show to state that she is ready and has returned to the charter market impressing participants and yacht aficionados. She s the perfect yacht to charter for discerning clients that demand the uxury and elegance of the past along with today's modern state of the art facilities equipment and conveniences as well as personal service and pampering by a highly professional crew.

Her spacious facilities include various saloons, a library, the beautiful main saloon, dining room and the most attractive aft deck with a full dining table and the ultimate cushioned 'fan-tail'. These features make the motor yacht HAIDA G an ideal vessel for luxury yacht chartering whether for relaxing family cruise vacation or for corporate and business cruising events.

Specifications:
Length: 218 ft (67m)
Beam: 30 ft (9.14m)
Draft: 12.96 ft (3.95m)
Built: 1929
Guests: 14

Cabins: 7

Owner's suite.

Two Double Guest.

One for children.

Three Twin

Crew: 14
Operating Area: West Med
Place of Berth: South France
Engines & Generators: 2x750 Krupp
Cruising Speed: 14
Fuel Consumption: 500lt/h
More pictures of Haida G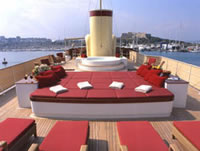 The sun deck with Jacuzzi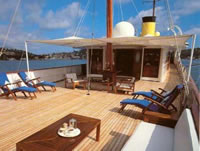 Aft deck dining - Deck sun bathing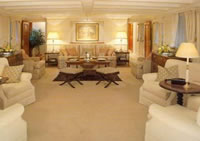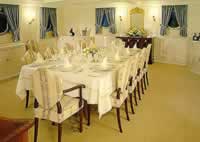 The main Saloon - The Dining Room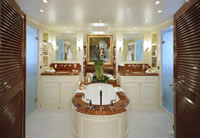 The Owner's Suite and Master Bathroom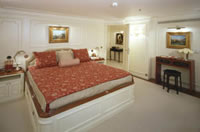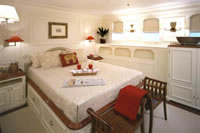 VIP Cabin and Double Guest Cabin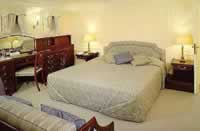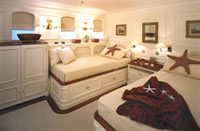 Double Cabin and Twin Cabin
History of luxury yacht HAIDA G ex Rosenkavalier ex Sarina ex USS ARGUS (PY-14) Patrol Yacht-14

Patrol Yacht-14 Argus served both the U. S. Navy and the Coast and Geodetic Survey.

Haida G was designed by Cox & Stevens and built in 1929 by the Friedrich Krupp Shipyard in Kiel Germany. Today she is still powered by her original Krupp Diesel engines. She served faithfully for a decade her first owner (Santa Barbara millionaire Max Fleischman who named her HAIDA as a private cruiser.
During World War II she was acquired by the U.S. Navy, 25 October 1940; Commissioned USS Argus (PY-14), 12 February 1941; Decommissioned 17 September 1941, and transferred on loan to the Coast and Geodetic Survey; Returned to U.S. Navy custody and re-commissioned 16 March 1942; Decommissioned, 15 April 1946; Struck from the Navy list 21 May 1946; Transferred to the Maritime Commission, 30 October 1946.

During her war career two memorable events took place:

The first occurred when Argus rescued the 60 survivors from the "Liberty Ship" John A. Johnson, which had been torpedoed and sunk by the Japanese submarine 1-12 on 30 October 1944.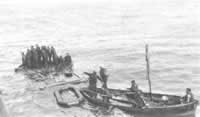 Survivors of the SS John A. Johnson being picked by Argus on 29 October 1944.
Picture above courtesy of the Patrol Yacht Photo Archive Department of the Navy -Naval Historical Center, Washington, DC.
1-12, after ramming and sinking the lifeboats and rafts, had then machine-gunned the 70 survivors in the water, killing ten. A Pan American Airways plane spotted John A. Johnson's remaining men soon thereafter, and Argus recovered them at 2135 on 30 October. She disembarked them at San Francisco on 3 November. Ardent (AM-340) and Rockford (PF-48) then teamed up to sink 1-12 ten days later.

In the second, Argus participated in the establishment of a weather station on Clipperton Island, 670 miles southwest of Acapulco, Mexico. Departing San Francisco on 4 December 1944, with meteorological personnel embarked, the converted yacht reached the island a week later and landed her passengers. With the American colors hoisted over the island, the naval weather station was set up that day, supported at the outset by Argus.
The yacht was decommissioned at San Francisco on 15 April 1946.
Her name was struck from the Navy list on 21 May 1946, and she was transferred to the Maritime Commission on 30 October 1946 for disposal.
She was sold in 1946 and renamed Sarina.
Sold in 1981 and renamed Rosenkavalier.
Sold in 2000 and renamed Haida G.
This is HAIDA G's story and if you are interested to charter this magnificent yacht for your charter vacation please contact our office. Would you like to charter HAIDA G?


Charter the luxurious mega motor yacht HAIDA G in Greece Now.

MOTOR YACHTS | SAILING YACHTS | MOTORSAILERS | CATAMARANS | MEGA YACHTS | JETS | CHOPPERS
CARS | LIMOS | ABOUT US | CONTACT US | FAQ | SERVICES | PRIVACY | TERMS | TESTIMONIALS | NEWS | LINKS
HOME | SITE MAP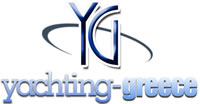 ADDRESS:
Tzavela 15-17, Piraeus 185-33, GREECE
Telephone: +30-6977-519090
Fax: +30-210-4296311
Email: info@yachting-greece.com
65 Newmarket Road, Durham, NH 03824, USA
Telephone: 603-7678926
Email: usa@yachting-greece.com
©www.yachting-greece.com 2000-2018.
Disclaimer: This document is not contractual. All specifications are given in good faith and offered for informational purposes only. The publisher and company do not warrant or assume any legal liability or responsibility for the accuracy, completeness, or usefulness of any information and/or images displayed. Yacht inventory, specifications and charter prices are subject to change without prior notice. None of the text and/or images used in this brochure may be reproduced without written consent from the publisher.