History of luxury yacht HAIDA G ex Rosenkavalier ex Sarina ex USS ARGUS (PY-14) Patrol Yacht-14


Patrol Yacht-14 Argus served both the U. S. Navy and the Coast and Geodetic Survey.

Haida G was designed by Cox & Stevens and built in 1929 by the Friedrich Krupp Shipyard in Kiel Germany. Today she is still powered by her original Krupp Diesel engines. She served faithfully for a decade her first owner (Santa Barbara millionaire Max Fleischman who named her HAIDA as a private cruiser.
During World War II she was acquired by the U.S. Navy, 25 October 1940; Commissioned USS Argus (PY-14), 12 February 1941; Decommissioned 17 September 1941, and transferred on loan to the Coast and Geodetic Survey; Returned to U.S. Navy custody and re-commissioned 16 March 1942; Decommissioned, 15 April 1946; Struck from the Navy list 21 May 1946; Transferred to the Maritime Commission, 30 October 1946.

During her war career two memorable events took place:

The first occurred when Argus rescued the 60 survivors from the "Liberty Ship" John A. Johnson, which had been
torpedoed and sunk by the Japanese submarine 1-12 on 30 October 1944.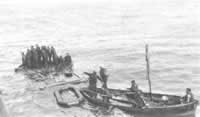 Survivors of the SS John A. Johnson being picked by Argus on 29 October 1944.
Picture above courtesy of the Patrol Yacht Photo Archive Department of the Navy -Naval Historical Center, Washington, DC.
1-12, after ramming and sinking the lifeboats and rafts, had then machine-gunned the 70 survivors in the water, killing ten. A Pan American Airways plane spotted John A. Johnson's remaining men soon thereafter, and Argus recovered them at 2135 on 30 October. She disembarked them at San Francisco on 3 November. Ardent (AM-340) and Rockford (PF-48) then teamed up to sink 1-12 ten days later.

In the second, Argus participated in the establishment of a weather station on Clipperton Island, 670 miles southwest of Acapulco, Mexico. Departing San Francisco on 4 December 1944, with meteorological personnel embarked, the converted yacht reached the island a week later and landed her passengers. With the American colors hoisted over the island, the naval weather station was set up that day, supported at the outset by Argus.
The yacht was decommissioned at San Francisco on 15 April 1946.
Her name was struck from the Navy list on 21 May 1946, and she was transferred to the Maritime Commission on 30 October 1946 for disposal.
She was sold in 1946 and renamed Sarina.
Sold in 1981 and renamed Rosenkavalier.
Sold in 2000 and renamed Haida G.
This is HAIDA G's story and if you are interested to charter this magnificent yacht for your charter vacation please contact our office. Would you like to charter HAIDA G?