Young Christina Onassis in picture with a happy smile next to a lifeboat of the yacht baring her name.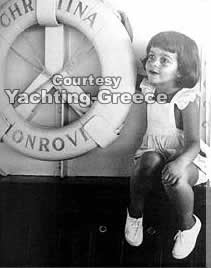 Picture of Ari and diva Maria Callas aboard Christina chatting with the paparazzi.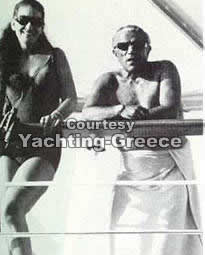 Picture below is the Onassis family aboard the Christina in Monaco. Onassis first wife Tina with with his only two children: Christina and Alexandros.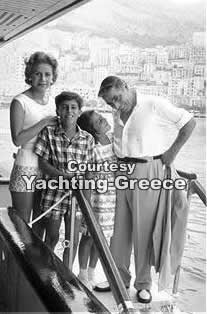 Picture of Jackie O former US first lady Jackie Kennedy with her children upon disembarkation of Christina on Onassis private island Scorpios.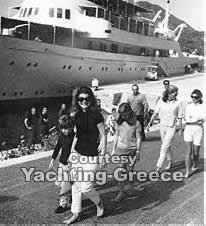 "Christina's" HISTORY
Originally built in 1943 as a Canadian convoy escort, the yacht was purchased by shipping magnate Aristotle Onassis in 1954.

Onassis spent over $4 million to convert the ship, into the most elegant and advanced private yacht afloat. He named it "Christina" after his daughter (young Christina Onassis in photo).

The "Christina" was Onassis' "floating home" from 1954 to 1975.

During that time, the vessel's guest list was the ultimate who's who of dignitaries and Hollywood stars, including such luminaries as Marilyn Monroe, Frank Sinatra, King Farouk of Egypt, opera diva Maria Callas and numerous others.

John F. Kennedy first met Winston Churchill aboard the yacht and two of the most celebrated wedding receptions of the century were held on her decks - Prince Rainier of Monaco to Grace Kelly and Onassis himself to Jacqueline Kennedy.

After Onassis' death in 1975, his daughter Christina donated the yacht to the Greek government.

In 1998, the yacht was bought by John Paul Papanicolaou, an Onassis family friend and shipping industry leader. He began Christina's three-year restoration, involving meticulous research, engineering and craftsmanship. "We're thrilled to reintroduce the fabled "Christina O" in all her original splendor," he says. "Having been a passenger aboard the yacht in my youth, I feel a special pride in bringing her forth to sail into the new millennium. The extent and attention to detail of her restoration would make Onassis proud."

Now, after more than a quarter-century, the yacht returns to sail into a new millennium in her original grandeur complemented by today's latest technology.

As her legendary past blends into the dawning of a new era, "Christina O" affords a first-time opportunity to experience the extraordinary lifestyle of the Onassis years replete with the modern touches of the 21st century.

For chartering information and rates E-mail info@yachting-greece.com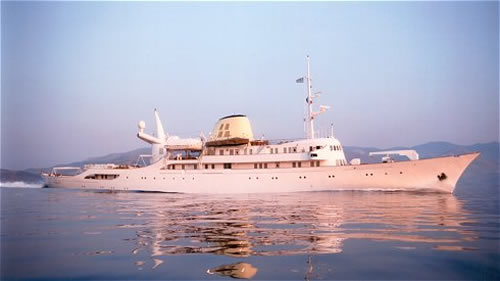 This is the New Christina O. Visit Christina O Home Page with the story of her recent multimillion dollar restoration history, full description, pictures and layout. Christina O is available for private charters November 2005 to March 2006 in the Caribbean and April to November 2006 in Greece and Greek Islands