Chartering a yacht in Greece?
It is as easy as 1-2-3!!!
Just e-mail us at: info@yachting-greece.com
or Call us in Greece at: +30-6977519090
This page provides useful information about the process on "how to rent" a yacht in Greece when you decide that would like to spend your sailing holidays cruising the beautiful Greek islands. The procedure is the same regardless if the yacht you are chartering is a bareboat, crewed, sailing or motor yacht.
We not only charter yachts, but we are experienced sailors. Tell us how many people will be in your group, if you have any sailing experience or not, if children will be on board and their ages, the dates that you wish to charter, if you have preference to a specific sailing area or group of islands and we will answer swiftly to your inquiry with a range of available yachts appropriate for your needs along with our recommendations.
When you decide on the yacht you like, we will send you via express mail six (6) copies of the contract signed by us. The contract is a national one, it exists only in one version, it is provided by the Greek Ministry of Merchant Marine and it binds us to provide you with the specified boat.
You will deposit an advance payment according to instructions. The rest will be paid according to the terms of the contract. You send us back five (5) copies of the contract signed by you. You keep the sixth as proof of payment for your protection.

You will tell us your expected arrival time. Our personnel will be waiting for you on the boat. You will be provided with very clear instructions to reach the boat from the airport.
After a check-in to introduce you to the boat your long wished vacation will start. And we are sure you will charter again a yacht from us, as most of our clients do!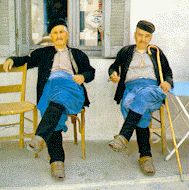 So in conclusion:
Browse our yachts to see what you like.

Call us or email us with charter dates, how many people in your group, if any children, bareboat or crewed charter.

We will respond fast with the information you need.

You will decide and choose a boat.

We will sent you the contract

You will sign it, you keep a copy for you and mail the rest to us along with the deposit.

You will arrive in Greece

You will Sail...
Wasn't it easy?
These old timers on the photo seems to agree
Photo was taken at the beautiful COS island
WHY Charter a yacht with Yachting-Greece.com?
Because our 40 years experience in the Greek charter market is the best guarantee that you will have a reputable Company with knowledgeable professional people standing behind you every step of the way, from the first day of your charter to the very last minute and also because a high proportion of the yachts that we offer for chartering are privately owned and in most cases, the owner of the yacht will either hand it over to you or will skipper it himself. See what our clients say about us also the services we offer.
AND we are usually the least expensive!
So check out our prices and variety of different yacht types we offer in our charter fleet in any size and style. If you are interested in a motor yacht check the motor yachts prices, if sailing yachts is what you are looking for check sailboat prices, and if you want a motorsailer check the motorsailer prices.
WE have access to MORE yachts than any other Greek chartering company...
This is an undisputed fact. We can not present all of our yachts on this website but only a portion of them so if you did not find what you were looking for, please email us your request we will respond immediately with pictures and specifications of the yacht requested...
So come, charter a yacht with us and enjoy sailing at the Greek islands, the most famous sailing playground all over the world!
Thank you for your continued trust and support!

Cordially,
The Staff and Management of Yachting-Greece