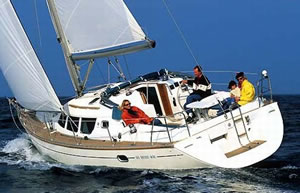 To charter this Jeanneau Sun Odyssey 40 DS yacht
e-mail us: info@yachting-greece.com
---
"Accommodating" that's the definition of this cockpit layout. The moveable bench seat to port easy to the transom. To starboard the cockpit table turns into a sun deck. At anchor, the panoramic view offers a pleasing view day and night.

With living accommodations comparable to those of much bigger yachts, the interior of the SUN ODYSSEY 40 DS, with its panoramic view, brings a new dimension to cruising sailboats.
The minimal drop from the cockpit to the saloon makes life on board so easy.
In this brightly lit and voluminous interior, the beauty and the detail of woodworking relate perfectly to the quality of furnishings.
The SUN ODYSSEY 40 DS comes with 3 cabins.
Layout Jeanneau Sun Odyssey 40 DS

PRICES PER WEEK IN EURO
TO CHARTER THIS JEANNEAU 40 DS YACHT IN GREECE
Period A: 2,597
Period B: 2,345
Period C: 1,694
To change price in your home currency
Prices divided per time Period in A, B, C
High Season (A): 21 JULY - 24 AUGUST
Middle Season (B): 12 MAY - 20 JULY & 25 AUGUST - 06 OCTOBER
Low Season (C): BEFORE 11 MAY & AFTER 06 OCTOBER