JEANNEAU SUN ODYSSEY 32 SAILING YACHT CHARTER GREECE


Sun Odyssey 32 sailing yacht and your sailing vacations at the Greek islands will be perfect with a Jeanneau Sun Odyssey 32 yacht charter Greece bareboat or with skipper. Every dimension of the Sun Odyssey 32 is maximized for comfort and livability. You will be impressed by the spaciousness and refined details. Easily identifiable by Philippe Briand's signature graceful hull lines, the Sun Odyssey 32 possesses a remarkably generous volume for effortless cruising. This perfect modern cruising sailboat, fast and seaworthy, features luxurious innovations that have never been seen before on a boat this size. Make yourself at home Jeanneau has created the ideal sailboat for comfortable family cruising. Serenely, with her sails well set, the Jeanneau Sun Odyssey 32 easily takes to the sea with zeal. Built to perform well under all conditions, with a quick reefing system, this vessel is dedicated to total comfort. The cockpit is specially designed to support the most efficient crew position, even when heeled. The handrails provide security day and night, and if the wind should die, the diesel engine can quietly take over. A wide cockpit offers plenty of room for relaxation and fun (large cockpit table). A big storage locker can hold an inflatable dinghy, diving gear, and fenders. At anchor, rake a morning swim from the transom. At sea, seat yourself confidently at the nay station to spread out your charts and check your electronic data. Move forward into the superb independent fore cabin that has an extra-large berth and numerous storage compartments including a large locker. Examine the large washroom, with its easy-maintenance molded fiberglass interior, both fully equipped and exceptionally spacious plus a large aft cabin where you can stretch out comfortably.
Jeanneau Sun Odyssey 32

CHARTER SAILING YACHT "JEANNEAU SUN ODYSSEY 32" NOW

Location: Greece

Jeanneau Sun Odyssey 32

To charter this Jeanneau Sun Odyssey 35 yacht e-mail us: info@yachting-greece.com

Jeanneau Sun Odyssey 32

Layout Jeanneau Sun Odyssey 32

Jeanneau Sun Odyssey 32

Jeanneau Sun Odyssey 32

PRICES PER WEEK IN EURO TO CHARTER THIS

JEANNEAU 32 YACHT IN GREECE

Period A: 1,700 Period B: 1,550 Period C: 1,150

Prices divided per time Period in A, B, C

High Season (A): 21 JULY - 24 AUGUST

Middle Season (B): 12 MAY - 20 JULY & 25 AUGUST - 06 OCTOBER

Low Season (C): BEFORE 11 MAY & AFTER 06 OCTOBER
SPECIFICATIONS

Jeanneau Sun Odyssey 32

Model:

Year built:

Available for charter in:

Boats Overall Length
Hull Length
Length on waterline
Overall beam
Draft deep keel
Light displacement fin keel
Deep keel weight
Cabin
Berth
Engine
Fuel capacity
Water capacity
Mainsail
Furling genoa
Category
Designer


Jeanneau Sun Odyssey 32

2000/02

Greece

9.60m / 31'5"
9.45m / 31'0"
8.52m / 27'11"
3.30m / `0'9"
1.50m / 4'11"
4 400kg / 9700 lbs
1370 kg / 3020 lbs
2
6
14 KW (19HP)
70l / 14 US gal
170l / 45 US gal
25,5m2 / 274 sq ft
23.8m2 / 256sq ft
B (C) 6 (8) .
Philippe Briand

EQUIPMENT

NAVIGATION
STANDARD
DECK
SAFETY
GPS
SPEEDOMETER
DEPTH SOUNDER
WIND SPEED
CD PLAYER
Steering Wheel
Autopilot
MPS
Bimini top
GPS
Outboard
El. Anchor
Furling main
Furling Genoa
Cockpit table
Cockpit shower
Life raft
Dinghy
Life jackets
Life belts
Horse hoe buoy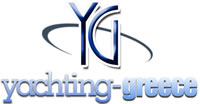 ADDRESS:
Tzavela 15-17, Piraeus 185-33, GREECE Telephone: +30-6936-883646 Fax: +30-210-4296311
Email: info@yachting-greece.com
65 Newmarket Road, Durham, NH 03824, USA Telephone: 603-7678926
Email: usa@yachting-greece.com
©www.yachting-greece.com 2000-2019.


MOTOR YACHTS | SAILING YACHTS | MOTORSAILERS | CATAMARANS | MEGA YACHTS | JETS | CHOPPERS
CARS | LIMOS | ABOUT US | CONTACT US | FAQ | SERVICES | PRIVACY | TERMS | TESTIMONIALS | NEWS | LINKS
HOME | SITE MAP